Beaucage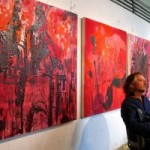 Michel Beaucage (1958, Montréal) has earned a name for his unique creative expression. His works both refer to the visible world and reflect suggestive perceptions. The interplays of abstraction and representation evoke nature, artistic movements and oriental stylization. Lines and shapes arising from spontaneous gestural strokes, superimposed transparent planes and harmony of colour are all characteristic of his paintings, rendered primarily in acrylic on canvas and rice paper.
His talent is also expressed in drawing, engraving (carborundum), sculpture and bas relief murals. Through his singular use of acrylic and rice paper, he infuses his work with fragility and transparency reminiscent of crystallinity, glass and ceramic glaze. He incorporates collage (paper, jute, fabric and fragments of drawings and engravings) to add contour and texture, and has developed an original technique using rice paper as a medium. His works are often produced as a series, inviting the viewer to experience an allegorical and contemplative perspective of art.
Michel Beaucage has taken part in numerous solo and group exhibitions in North America, Europe and Asia, including Creations of Color at the Halcyon Gallery in Shanghai in April 2013, Chambre impériale at the Espace 40 Gallery in Montréal, the 4th Beijing International Art Biennal (September-October 2010) in Beijing, Perfect Pairing at Gallery DeNovo in Sun Valley, Idaho, in 2010, the 2nd edition of Art & Integration in Pescia, Italy (May 2010). His work was also presented at the High Noon New Year's Party (December 2008-January 2009) at the Shanghai High Noon Art & Culture Centre in Shanghai, Works on Paper, A Global Perspective at the NY Arts pavilion in Venice (June-November 2009), Lure at Broadway Gallery in New York (2008), the 2nd Beijing International Art Biennal (2005), and Segments, Exhibition of the Canadian Art of a New Century at the Mestna Museum in Ljubljana, Slovenia (2001). Michel Beaucage holds a Master of Fine Arts and has trained at Atelier Pasnic in Paris (carborundum engraving). His works are part of more than forty public and private collections.
Michel Beaucage lives and works in Montréal.