Lemire, Madeleine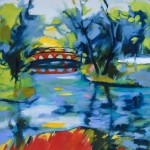 Born in Oka, QUEBEC, Madeleine Lemire now lives in the Eastern
Townships.  She works at her studio
at the Art Center of Richmond but also travels a couple of months
every year to explore new challenges
and enjoy warmer countries.
She has a bachelor degree in Education from the University of
SHERBROOKE. She also studied at l'Ecole du Louvre in PARIS,
the Montreal School of Fine Arts, the Academy of Arts and the Saidye
Bronfman Centre for the Arts in MONTREAL.
She has taken part in several solo and group exhibitions in CANADA and
also in the United States and in Europe..
Her works are part of numerous collections.
M. Lemire was elected to the Royal Canadian Academy of Arts (RCA)* in 1996.
In Montreal, one can see Lemire's work at Galerie Michel-Ange.
* ROYAL CANADIAN ACADEMY OF ARTS (RCA)
The history of the R.C.A . began with the Royal Academy of Arts, a
society founded in England in 1768 to advance the fine arts. For a
century, it was the only British art school. Elected members are
entitled to write the initials R.A. after their names.
In 1880, the Marquess of Lorne, Governor Ganeral of Canada founded the
Royal Canadian Academy. Its membership at that time comprised 26 of
Canada's most accomplished painters, sculptors and architects who
wished to foster the visual arts in the very new Dominion of Canada.
These 26 Academicians, as they called themselves, founded the National
Gallery in Ottawa, with the requirement that each newly elected member
deposit a work in the Gallery. They also established the first
life-drawing classes in Ottawa, Toronto and Halifax.
In 1995, 115 years later, the R.C.A. revised its constitution and put
into effect a revitalization plan. Today there are 500 members from
approximately 21 disciplines working together to present exhibitions,
support public museums, and, perhaps most important, encourage young
artists right across Canada.
Academicians are elected by their peers on the basis of having
produced a significant body of outstanding work over a period of time.