Tanobe, Miyuki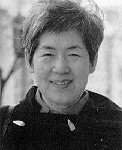 Miyuki Tanobe was born in 1937, in Morioka, Japan. From the age of 11, she studied with Master oil painter Tanabe. In 1959, she obtained her degrees to teach painting and drawing from the Fine Arts School of the University of Tokyo. Seida Maida, the uncontested Master of nihonga, employed her at his school. She held her first exhibitions and two years later, she was accepted by INTIN (Autumn exhibition of nihonga painting in Tokyo). In 1962, she enrolled at the Ecole Supérieure Nationale des Beaux-Arts in Paris, where she worked with Master Chapelain Midy. She returned to Japan in 1966.
She settled in Montréal in 1971, where she fell in love with the popular spots of the city. From 1972, she held at least ten solo exhibitions.
Miyuki Tanobe's works are on permanent display at the Montréal Museum of Fine Arts, Musée du Québec and Musée de Joliette.