Barbeau, Marcel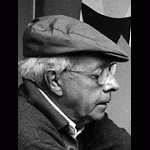 Marcel (Christian) Barbeau is born on February 18, 1925 in Montreal (Quebec, Canada) where he lives until 1952. Between 1942 and 1947, Marcel Barbeau studies the drawing of furnishing at the School of Furniture of Montreal. With his professor of drawing, the painter Paul-Emile Borduas he initiates himself with art, particularly with the modern art and discovers his artistic passion. Between 1944 and 1953, Marcel Barbeau attends the workshop of Paul-Emile Borduas.
In 1945-1946 in his Workshop of the lane, Marcel Barbeau initiates with Jean-Paul Riopelle his first experiments of abstracted expressionism, in painting as in sculpture. Then Marcel Barbeau takes part in all the activities of the group Automatist, multi-field artistic movement inspired of surrealism, and Marcel Barbeau signs the proclamation of the movement, "Global Refusal", published on August 9, 1948. Between 1958 and 1974, Marcel Barbeau lived and made career outside Quebec: Vancouver, Paris, New York, South California became his home. Spring 1962 at the summer 1964, Marcel Barbeau lives in Paris where he exposes at Iris Clerc. Marcel Barbeau will return there between 1971 and 1974, after having lived and to have made career during five years in the United States, in New York (1964-1968), then in California (1970-1971). At the beginning of the Nineties, Marcel Barbeau turns over to France and divides his time between Quebec and Paris, where he holds two solos exhibitions to the Donguy Gallery.
Marcel Barbeau resides in Paris area, in Bagnolet, since 1996, going back to Quebec for long stays lasting the summer. Initially painter and sculptor, Marcel Barbeau was also interested in the print, the drawing, joining, photography and the performance. It produced drawings, paintings and sculptures of very large sizes and it carried out several works of public art. Marcel Barbeau's works appear in the majority of the Canadian museums and some European and American public collections. Constantly in the search of new forms and new fashions of expression, curious about discovered science like those of the artists of other disciplines, which he often joined at the time of multidisciplinary events of creation in which joined artists of other disciplines and he explored the transdisciplinarity by borrowing problems or elements suitable for poetry, the dance, the theatre or the music.
His work, at the same time purified and expressive, belongs to the baroque universe. His quick evolution testifying a double Apollinian and "dionysiac" vision, according to terms' of Carolle Gagnon, Co-writer with Ninon Gauthier of the monograph which to him is devoted : Marcel Barbeau: the glance in running away, ECSC, Montreal, (1990), and Rings Art, Paris (1994). It is that, explains Charles Delloye in the foreword of this book of art: "The fundamental option which underlies and wraps all the creative activity of Marcel Barbeau is a reiterated impulse of "passage in extreme cases" And he adds "Because what counts for him,… is to attest, in his including side marginality, the absolute initial creative principle, the pure capacity originating founder to appear it pictorial, in his irreducibility with any formulation, which he promotes or is likely to establish."
Marcel Barbeau's works were exposed to Canada, in the United States, in Europe and North Africa within the framework of collective and individual exposures, of which some major international exhibitions and some exposures solo in museums. They were abundantly commented on in articles, catalogues, dictionaries, biographical and art books. They also were the subject of videos and films of art. The scenario writer Manon Barbeau (girl of the painter Marcel Barbeau) supplemented the turning of a film of art on his life and his work. During is career, Marcel Barbeau obtained several prices, purses and distinctions honorary in Canada and abroad.