Brunet, Diane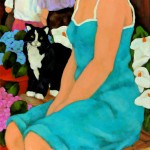 Born in Montreal in 1951, Diane Brunet received a bachelor's degree in visual arts at the University du Québec à Montréal.
Diane Brunet also studied management, accounting and marketing.
Her work shows a solid mastery of her technique where space, perspective, proportion, color and light blend in total harmony.
Her inspirations draws on her children memories in Montreal where she lived near people from different ethnic groups conducting their daily activities. The artist brings us into a pictural world where joie de vivre, warmth and humour sparkle in the eyes of her characters.