Dupont, Robert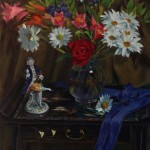 Robert Dupont (1930-2006)
Born in Montreal, he studied Commercial Art in 1949-1950 at the Commercial Art School in Montréal. He continued studying drawing, decorating and advertising at the Ecole des beaux-arts in Montréal for the next four years. In 1962, he undertook still life and portraits lessons under the direction of Herman Hichkawitch, in Providence, Rhode Island.
In 1979, he received a B.A in Visual Arts Teaching form Université du Québec à Montréal. At 16, he chose Commercial Art and Illustration. In 1951, he worked with illustators at the McDonalds Studio in Old Montréal. At 25, he entered the Dominican Brothers Order. He lived in France with this community and also in the United States for five years where he continued painting during his spare time. It is there he began successfully exhibiting his paintings.
In 1970, he left the religious order. Some years later, he started exhibiting in Montréal galleries. He has also displayed his works in Fall River, Massachusetts, Solo.