Leduc, Fernand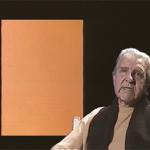 In 1938 Leduc started his studies at the École des Beaux-Arts in Montreal. After graduating in 1943, he left the church and shortly after became a member of the Contemporary Arts Society. Leduc played a major role in forming the group known as the Les Automatistes, co-signing the Refus Global manifesto, but not contributing to the illustrated book. He moved to Paris with his wife Thérèse Renaud in 1946 and slowly distanced himself from the group. There he participated in an exhibition, called Automatisme, at the Galerie du Luxembourg that examined the group. By late 1948, he had distanced himself from them and had joined the Plasticiens. In Paris, Leduc developed a friendship with the painter Jean Bazaine, whose art was then in the category of abstracted landscape. This contact was an influence on Leduc's works of the early 1950s.
He returned from Paris in 1953. With Paul-Émile Borduas, the theoretician of the Automatist group, he was the one who maintained the closest ties with the French surrealists. Leduc moved to a type of hard-edge abstraction in 1955. He founded the Non-Figurative Artists' Association of Montréal (Association des artistes non-figuratifs de Montréal) in 1956. He experimented at that time with various forms of spontaneous and gestural nonfigurative painting, his works gradually becoming more involved with interactions and contrast of colours.
Leduc returned to France in 1959 and stayed there until 1970, when he came back for two years to teach in Montréal. In 1979 he was awarded the Louis-Philippe Hébert Prize and the Paul-Émile Borduas Prize in 1988.
Leduc currently lives in Paris and Italy.
Honnors
1977 - Price : Lynch-Staunton
1978 - Price : Louis-Philippe-Hébert
1988 - Price :  Paul-Émile-Borduas
Exhibtions
1950–1951: Galerie Creuze, Paris
1950: Cercle Universitaire, Montréal
1955: Musée de Granby; lycée Pierre Corneille, Montréal
1956: Galerie l'Actuelle, Montréal
1958: Galerie Denyse Delrue, Montréal
1959: Galerie Artek, Montréal
1961: Délégation du Québec à Paris
1962: Galerie Hautefeuille, Paris
1963–1965: Galerie 60, Montréal
1966: Musée du Québec; Musée d'Art Contemporain, Montréal
1970 Centre Culturel Canadien, Paris; Galerie III, Montréal; Exposition rétrospective de Fernand Leduc, Musée d'art contemporain de Montréal; Musée du Québec; Mendel Art Gallery, Saskatoon; Memorial University of Newfoundland, Saint-John; Beaverbrook Art Gallery, Fredericton; Université de Sherbrooke; The Robert Mc Laughin Gallery, Oshawa
1972: Galerie Jolliet, Québec; Galerie III, Montréal
1973: Tapestries Les 7 jours, Centre culturel canadien, Paris; Thielson Gallery, London, Ontario; Exposition itinérante à travers les provinces maritimes, Galerie III, Montréal
1974: Tapestries Les 7 jours, Galerie Kostiner-Silvers, Montréal; Journées Canadiennes, Toulouse, France
1975: Dizaine canadienne (Ten days over Canada), Lyon, France; Tapestries Les 7 jours, Agnes Etherington Art Centre, Kingston, Ontario et York University, Toronto, Ontario; Michochromies, House of Canada, London, United Kingdom; Microchromies pastels, Galerie Gilles Corbeil, Montréal
1980: Musée d'art contemporain de Montréal; Centre Canadien à Paris; Musée Municipal, Brest, France
1984: Services Culturels du Québec, Paris
1985: Musée des Beaux-Arts de Chartres
1986: Musée du Nouveau Monde de La Rochelle
1997: Musée du Québec, Québec
2011: Galerie Michel-Ange, Montréal
[
Art Book
Fernand Leduc, author : Jean-Pierre Duquette