Levy, Pearl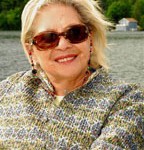 Born in Montreal in 1929, Pearl Levy studied at Saidye Bronfman, then at Loyola College. In 1982, she obtained a certificate in sculpting and an art diploma from the Montreal University of Quebec. Pearl Levy has exhibited her works for more than twenty years. They have found place in private collections, corporate offices and recently, in the Canadian Association in United States Nations in Ottawa.
Casting in bronze or carving in stone, whaterver the material the artist reminds us that her work seeks to represent the strength and frailties of humanity and ambivalence of our inner feelings. The creative sense of the artiste ant her the deep respect which she hold for her material has, over the years, produced works of great sensitivity. Whether it be stone or bronze, her delicate but disciplined carvings are symbiotic with both the frailty and strength of humanity.
"My work seeks to represent the strength and frailties of humanity and the ambivalence of our inner feelings. These characteristics blend together to epitomize the perseverance of the human spirit." - Pearl Levy
ARTIST STATEMENT
"In recent years, I have evolved towards larger works for both the private and public domain.  Be they single or multiple units, their forms represent geometric and organic motifs; polished and rough, pure and impure, but all working together as one.  In fact, I feel that they represent mankind's strength and frailties, compassion or lack thereof, and the ambivalence of our human inner feelings.  The marriage of these various forms and textures are also manifested in my smaller works.
In the final analysis, all of these characteristics must blend together to epitomize the overall strength and perseverance of the human spirit."
- Pearl Levy
Permanent Collections
Bombardier Inc., Montreal
Patterson International, Montreal
Téléglobe Canada, Montreal
Habitation Classique, Longueuil, Quebec
CIBC—Wood Gundy, Montreal, Quebec
La Banque Royale du Canada, Montreal
The Royal Bank of Canada, Toronto
Hôtel de Ville, Verdun, Quebec
Loto-Quebec, Montreal
United Nations Association of Canada, Ottawa
Musée de la Ville de Lachine, Quebec
Musée de Bas Saint-Laurent, Quebec
Royal Carribean Voyager of the Seas cruise line
Ernst & Young, Montreal, Quebec
Power Corporation of Canada, Montreal
Rothenberg & Rothenberg, Westmount, Quebec
Bernaissance Inc., Saint-Laurent, Quebec
Dominion Securities/RBC, Montreal